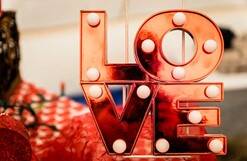 February is a vibrant season brim-full of love and affection. Malls to shopping centers are mesmerizingly decorated with an array of sparkling gleaming hearts in hues of pink and red displayed in all shapes and sizes.
Special offers are put up on an extensive collection of clothes, designer perfumes and delicious assortments of Swiss Chocolates.
Romantic ambiance is set at dining restaurants with fine exquisite menus. Starting off with a glass of bubbly champagne, heading to a tantalizingly, palatably mouth-watering meal and winding it up with a dessert fancy enough to tickle ones taste buds.
Bakeries buzzing with customers ordering extravagant custom-made designed cakes where patisserie chefs keenly take care of every little detail just to fulfil and delight their patrons.
Florists arrange ravishing, gorgeous flowers to make exotic and stunning bouquets of roses.
Perhaps instead let us try to celebrate love differently this time.
It would be extremely delightful to enjoy a cozy hearty meal with your family and compliment each other for all the efforts and sacrifices that each makes. Be thankful that you can dine with all your loved ones.
Lately have you been too occupied to catch up with your friends? Often than not we get carried away with our daily groove that we take no notice of the essence of having friends by our sides. In the rapidly changing world, it's very rare to find true friendship. Take notice of a friend who always stands by you in times of your need and all those who mentor and advise you through your personal problems. If you happen to have a friend of this nature, then I urge you to respect, cherish and appreciate them. Be grateful to friends who are determined to help you selflessly watch you grow.
Do you own pets? Are you an animal lover? These furry friends are seekers of love and affection. How about taking your pet to a spa? Or even getting them their favorite treats? Consider making your pets' space a bit comfier. Perhaps you could also consider adopting a homeless pet too.
Go to an old age home and spend some time with the elderly. Most of the time they desire kindness, endearment, and care as time and again they tend to notice the absence from their near and dear ones. Talk to them, hug them, hold their hands, and listen to them attentively. If possible, ask them what they wish to have, more often they are likely to say that they want to spend time with their loved ones. If possible, make it a habit to visit them at least once a week. Ask the organization if it is possible to supply some groceries or any types of essentials needed for the home.
Spend some time at a Children's Hospice. These children are enduring unfavourable battles. Give undivided attention to the child, and try to meet their parents. Comfort them, by encouraging them to have faith, probably help them financially if you can support them. Children can teach us how to value life. If there is something that we can learn from children, it is that they teach us composure, trust, compassion, persistence, the spirit of facing things bravely, the ability to bounce back, to become curious and most importantly to love and to be loved unconditionally. Donate apparels, toys or board games and storybooks or even colouring books if you can.
Photo by Jonathan Borba
If possible, buy a meal or donate clothes to a homeless person. If you happen to have a business of your own, consider employing them. At a café, prepay the bill of the person behind you. This act of kindness can create a ripple effect. I am a strong believer that any form of kindness is considered as love. Randomly pay for groceries for a stranger, this stranger could be the janitor working at a shopping mall or an employee at your place of work.
As you shower love and affection, don't forget to love yourself too. It's not selfish to do so, in fact it is essential. Give yourself the much-needed break you deserve. Pamper yourself at a spa. Make a hearty meal that you have been craving to eat. Indulge in something sweet. Start some form of exercises and try to take up meditation and yoga as well. Turn to journaling.
Read that book you've always wanted to read but have had to put it aside due to a busy schedule. Wear an outfit and jewelry that you have set up aside for a special occasion. Spray your favourite perfume. Remember that the love you give to yourself is the foundation for all the love you'll give away. Most importantly, be grateful for everything.
Ironically the month of February is the shortest month of the year. Celebrate it in a meaningful way, honour love every day, share these special moments not only with your loved ones but also with those who need much affection and love too.
Love should not be celebrated just during a season but instead it should be celebrated every day without any reason.
By Disha Sharma
Comments
Love is such a word, it's easy to utter but difficult to feel and let others feel. From children, animals, adults we all learn how to love. But sometimes we forget to love ourselves. Thanks for sharing a great, valuable article. Plz keep on doing such good work it will benefit to many.
The moment people start to chant together in the OM Chanting circle, their own vibration is transformed into OM.
The word Archangel is derived from a Greek word whereby the word Archi means highest, chief, most important and Angel means a messenger of God. When put together it means the highest messenger of God.
Have you ever wondered why you might often be feeling low, feeling a lack of energy, unwell or frozen with pain? Is it possible that there could be a block in one or several of your chakras?